Posted by

All State Bonds

on
Why Do I need a Notary Public Bond
A Notary bond protects the public from financial harm in the event you, the Notary, make a mistake or omission, or perform a wrongful act in notarizing a document that causes any person financial harm. By issuing a bond, the surety company guarantees that you will perform your duties as a Notary Public in accordance with the law. If you do not, the company will pay the financially injured person any damages up to the amount of the bond. Bond limits are set by each state individually.
Texas Notary Bonds for $10,000 is only $50/4 years
Express Online Application (Same Day Service)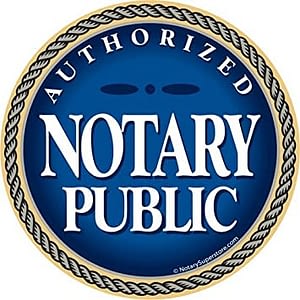 Apply Online For Faster Approval
How Much Does a Notary Bond Cost?
A notary public bond is a type of surety bond that notaries public need to purchase before they begin to notarize documents for the public. The total cost for Texas notary bond is $50 for a 4 year term and there is a $21 fee for the State of Texas Notary Application. New notaries and renewal notaries alike need to purchase a notary surety bond every 4 years.
Become or Renew your Texas Notary Commission in one simple app:
Complete the Application for Appointment as a Texas Notary Public Online Apply Now and you may purchase your notary stamp and error & omission Insurance ( in case you made a notarize a document by mistake) as well at the same time.
Cost to become a Notary Public Official:
Texas Notary Application ( $21 ) and Notary Bond ( $50 ) will all Cost $71.00 / 4 year. All you need to do is apply online and pay for your notary completed application. We'll take care of the rest.



Notary Package Cost is $95 for a 4 year Term which Includes:
• 4-year $10,000 bond for $50 and $21 Texas Application State Fees– ($71)
• Rectangular self-inking notary seal – ($16 Value)
• Texas notary public record book – ($8 Value)
Errors and Omissions Insurance:
Your notary bond protects the public, NOT the notary. But Errors and Omissions insurance will protect you against costly lawsuits. Error & Omission Insurance is underwritten by CNA Surety. Call our Agents to Apply or Print Error & Omissions Insurance application sign and mail in with your check.
• $5,000 Error & Omissions Insurance, Cost $18 ( 4 year term)
• $10,000 Error & Omissions Insurance, Cost $36 ( 4 year term)
• $25,000 Error & omissions Insurance, Cost $53 ( 4 year term)
• $50,000 Error & Omissions Insurance, Cost $100 ( 4 year term)
To Qualify to be a Texas Notary Public:
• You must be age 18 or older.
• You must be a legal resident of the State of Texas. (No certain length of time is required to establish residency.)
• You must disclose a finding of guilt for any crime (other than a class C misdemeanor) from any jurisdiction regardless whether the case has been appealed. (An applicant who is currently on probation, has charges pending or on appeal, or who has been convicted of a crime of moral turpitude will be automatically denied).
Filed Under: Notary Bond
|
Tagged With: $10000 Notary Bond, Alabama notary bond, Arkansas notary bond, buy a notary bond online, California notary bond, Florida notary bond, how do I become a notary public, How much does notary bond cost, Louisiana notary bond, Notary, Notary Bond, notary bond Austiin Texas, notary bond Dalls Texas, notary bond El Paso Texas, notary bond Houston Tx, notary bond near me, Notary bond San Antonio Texas, Notary bond waco texas, notary errors & omission insurance, Notary surety bonds, online notary bond, Renew my notary bond, Texas Notary, Texas Notary Bond, what is a notary bond